Birth and death of William Barraud
William Barraud, the elder of the two famous sons, was born in the year 1810 and expired on the 1st of October in the year 1850.
The life of William Barraud
William Barraud's talent as an artist was not truly acknowledged by his family for after his schooling, he was sent directly to a Custom's office to earn a living for himself and his large family. However, the soul of the artist could not be contained in an office, thus, he soon left his chair to train as an artist under the Academician and painter, Abraham Cooper.
Under such a strong influence, the elder Barraud's talent grew fast. Soon, by the time he was nineteen, he was exhibiting at the Royal Academy for the first time and was directly commissioned to paint a dog's portrait. This portrait was of a bitch called 'Triumph' and was commissioned by Mr. John Turner in the year 1829.
In the year that followed, Barraud was commissioned to draw the portrait of 'Betsy' who was Mr. John Warde's favourite foxhound. In the year after this portrait was drawn, William drew Mr. Warde with Betsy looking up to him. This was called 'Mr. Warde on Blue Ruin'.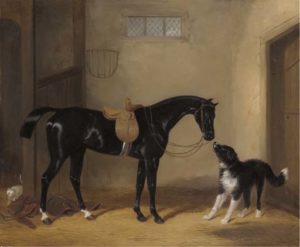 The works of William Barraud
Following is a list of his exhibitions at the Royal Academy:
'Study of an ass' in the year 1829
'Marquis' in the year 1830.
He exhibited three paintings in the year 1831:
'Pointers'
'An old hunter'
'The Council of horses'
In the year 1834, he exhibited 4 paintings:
'A favourite cob'
'An old Hackney'
'Gulliver meeting'
'The Houyhnhnms'
1833 saw him exhibiting 2 paintings and one of them was 'Shakespeare, a hunter'.
Along with these, he exhibited multiple paintings here throughout the years.
A painting by William Barraud.
Plates in the Sporting Magazine
Along with these, he exhibited several plates in the Sporting Magazine. Some of them were:
'Triumph', who was a greyhound
'Betsy', who was a foxhound
'The trysting place'
'The Moors'
'Robert Bartlett'
'Once more upon the moons'
'Winchelsea'
'Twilight and Wyandotte'
'Sarah Bate and Sedlitz'
'Drafts from the badminton'
'British yeoman'
'The courser's companion'
'Beauty and the beast'
'The Neasdon harriers'
'Here come the hounds'
'A rough lot'