William Bell Scott, primarily a painter of the pre-Raphaelite era, also dabbled in poetry and occasional printmaking. He was the brother of the revolutionary painter and print maker, David Scott.
He was seventh of all children born to Robert Scott an engraver, himself. The elder brother, David, and William both studied at Trustees Academy in their hometown, Edinburgh. He used oil and watercolors as his medium of painting and also tried his hands at printmaking.
He also wrote poetry and his verses used to be published in Scottish magazines. He taught art as principal of Government school of art in Newcastle upon Tyne. In his association with the pre raphaelites, he became close to Dante Gabriel Rossetti.
After having trained at the Trustees Academy in Edinburgh, both he and his brother assisted their father, an engraver for some years before they set off to make their mark as successful painters.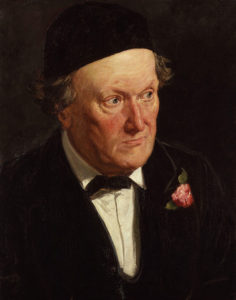 The early life of William Bell Scott
William Bell Scott was born the seventh child on 12 September 1811 to Robert Scott and Rose Bell. The family lost four older sons to an epidemic and William felt the tragic effects of it in his parents' behavior towards him. He was initially educated at the local high school. He learned engraving but the art probably came naturally to him.
The extent and quality of his work displayed intense emotion and maturity. By twenty years of age, William Scott had produced a collection of 8 engravings by the name, Views of Loch Katraine and Adjacent scenery. Though he never attended university, Scott managed to enter the ranks of Edinburgh University's St.Luke,'s Club during 1832-33.
After having initially trained at the Trustees Academy, he moved on to London in the year 1837. Two years later, he married Letitia Margery Norquoy. In the years that followed, he gained quite some recognition in the artist's circle in London. In 1843, he became the founding headmaster ship of the  Government School of Design at Newcastle upon Tyne, a post he held for 20 long years.
Later Life os William Scott
It was in Newcastle upon Tyne, where he taught art, that he came in contact with Alice Boyd and developed a lifelong liaison with her. In the year 1851, he left the Government School of Design at Newcastle upon Tyne to work at the Science and Art Department in London, until 1855.
By 1846, William Scott had resigned into obscurity. In 1846, when his 'The year of the World', ' Rosabell' and 'A dream of love' were published that Dante Gabriel Rossetti wrote a letter to him desiring his friendship and advice. This resulted in a life long association of Scott and the Rossettis. William Scott's life took a positive turn with this association as each influenced and sought aspiration from the other.
During this time, Scott's narrative, Rosabell was published. Rosabell depicted ten stages in the life of an Edinburgh prostitute, the Victorian society which indicted the prostitutes but had no scorn for the patrons.
In 1859, he got Alice Boyd as his pupil and in 1860, he visited her residence at Penkill castle. From then on they developed a relationship which continued till his death in 1890. His marriage was not a happy one, yet he did not end it.  An understanding of sorts was reached between the three and Alice would spend her winters with the Scotts at London and Letitia and William would stay at Penkill palace in the summers.
William Bell Scott's Paintings
In his lifetime, William Scott produced some 104 paintings and composed some 105 verses.
Famous among his paintings were
Iron and Coal
The Nativity
The eve of the deluge
Una and the lion
Tower of St. Saviours
And the waters prevailed upon the earth a hundred and fifty years.
Stroll on a country road.
Poems by William Bell Scott
William Scott has to his credit, 105 poems. Notable amongst them are
Love and death
Art for art's sake
Paracelsus
Garland for advancing years
Last walk in illness
Through his poems, Scott delved into the deepest mysteries of life, death, and religious dogmatism.
Famous works of William Bell Scott
Amongst all his paintings, Iron and Coal gained acclaim in the artists' circle as this was one of the first paintings where industrialization was used as a subject. The Trevelyan family had instructed painting of the central courtyard of the Wellington Hall and this picture was one the eight such panels painted.
The picture shows the workers engaged in hard labor, beating the molten iron. A small girl holding a meal box in one hand and a book in another is visible in one corner; suggesting that the workers had to toil to provide for their family. The ironwork and the bridge in the background suggest the progress and contribution of the Stevenson company in the industrialization of England.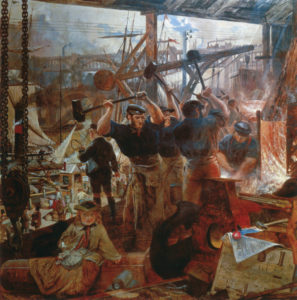 He also painted a series of wall paintings showing scenes from James I's poem, The King's Quair in the staircase of the Penkill castle.
The legacy of William Scott
 William Bell Scott was the seventh child of Robert Scott and Rose Bell. Robert Scott was an engraver himself. William's great grandfather were skinners, glovers and saddlers by profession. This trade was no longer financially sustainable during his grandfather's time and family fortune was lost just after the birth of William's father.
William's father, Robert took up a job at the excise department and then on the financial condition of the family improved. William could even venture to seek an alternative craft and enrolled under Alexander Robertson to learn the art of engraving.
William Bell Scott Death
After his resignation from the Science and Art Department in 1885, William channeled his expertise towards writing events that occurred in his life. A memoir of his life was published posthumously. He Died in the year 1890 at Penkill.