In 1820, Thomas Worthington Whittredge was born in a log cabin near Springfield, Ohio. When he was a young man, he used to paint landscapes and portraits in Cincinnati. After this, in 1849, he traveled to Europe to further train himself in arts.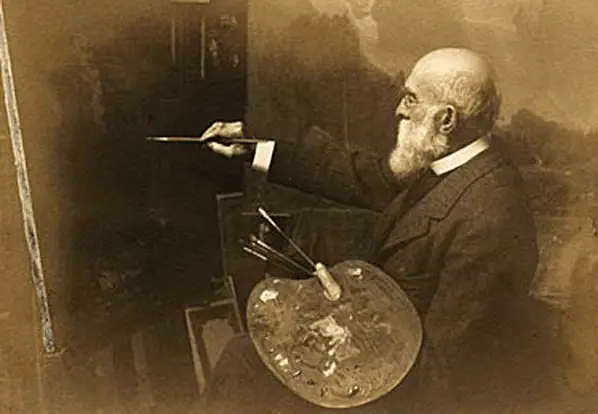 After he arrived in Germany, he went to the major art school of that time which was the Dusseldorf Academy. He even studied with Emanuel Leutze.
At Dusseldorf, Whittredge befriended Bierstadt and posed for the famous painting "Washington Crossing the Delaware" which is now in the collection of the Metropolitan Museum of Art in New York City.
Thomas Worthington Whittredge Biography
While Whittredge spent nearly ten years in Europe, he met and traveled with other important artists such as Sanford Gifford.
In 1859, he came back to the United States and then settled in New York City and at this place he launched his career as a landscape artist painting in the Hudson River School style.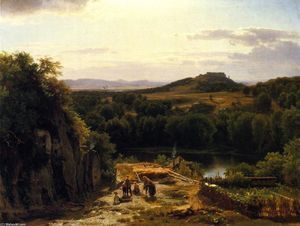 From 1874 to 1875, he served as president of the National Academy of Design. Even in 1876, he was a member of the selection committees for the Philadelphia Centennial Exposition.
Works by Thomas Worthington Whittredge
In 1865, Whittredge along with Sanford Gifford and John Frederick Kensett journeyed across the Great Plains to the Rocky Mountains.
This trip made a great impact on some of the most important works by Whittredge and therefore he could paint oblong, spare landscapes that captured the stark beauty which captured his eyes as well as the linear horizon of the Plains.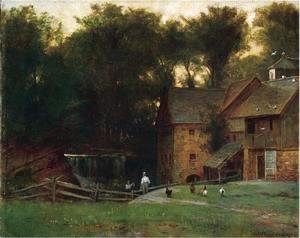 "The Old Hunting Ground I", "The Trout Pool", "The Meadow", "The Mill", "The Old Road to the Sea", "Gathering the Buckwheat" are some of his works.
From the Harz Mountain Mountains
Thomas Worthington Whittredge created this painting in 1853. This painting was titled From the Harz Mountain Mountains (Riders in the Harz Mountains).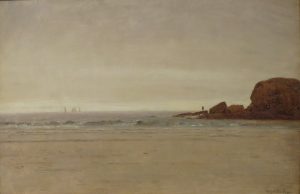 The location painted in this is of Harz Mountains, Germany. It is an oil painting on Canvas.
Autobiography of Thomas Worthington Whittredge
The Autobiography, "The Autobiography of Worthington Whittredge (1820-1910) was first published in the Brooklyn Museum's journal. His autobiography was reissued in 1969.
Death of Thomas Worthington Whittredge
In 1880, he moved to Summit, New Jersey, in 1880 and this was the place where he continued to paint for the rest of his life. At the age of 89, he died in 1910 and was buried in the Springfield, New Jersey cemetery.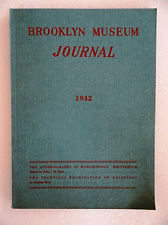 His paintings are now in the collections of various museums, including the Metropolitan Museum of Art in New York City and the Smithsonian American Art Museum in Washington, DC.
More Info On- Lilly Martin Spence, Henry Moore, Lord Byron, George Frederic Watts, Henry Peters Gray